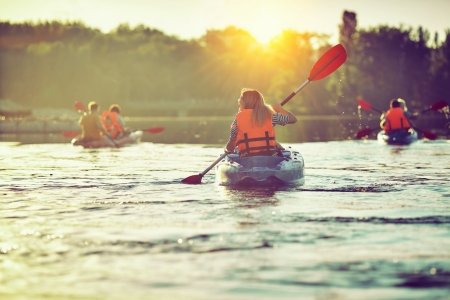 This summer is looking a lot different for many teens. With many camps, sports, and organized gatherings being canceled, many teens are left bored with nothing to do. While online shopping may seem like a dangerous game, with the right guidance and budget your teen could find great items for great prices. With more of the world moving online daily this is a great time to teach your child the logistics of online shopping. The best part is they don't even have to leave the house! Here are the 10 best online sales for teens planning summer on a budget.
1. Amazon
With Prime Day coming up, Amazon has some great online sales for teens that can fit any summer festivity. They have sales on summer style t-shirts and swimwear for a low price. While you're there, be sure to check out the discounts on the rest of Amazon's fashion items. Some discounted fashion items include shirts, pants, belts, and swimwear.
2. Home Depot
If your teen is looking to update their childhood room or maybe take up a new hobby like woodworking. Home Depot is a one-stop-shop for all of your renovation needs. Finding deals on paint, building materials, and even outdoor furniture has never been easier. You can buy your items online and pick them up in the store or get free delivery when shopping online.
3. American Eagle
Is your teen looking for some new fashion for the summer or new back to school outfits? If so, American Eagle is offering up to 60% off sitewide! Take advantage of it while you can, because this sale is only available for a limited time.
4. Crane & Canopy
If your teen is looking to get some new items for their room or want to pick something for their dorm room. Look no further, Crane and Canopy are offering up to 70% off bedding, sheets, rugs, and decor.
5. Enso Rings
Is your teen looking for a great gift or some accessories for themselves? Enso rings are offering up to 40% off select rings and bracelets. With multiple selections to choose from for men and women in their new summer collection, they can find something everyone will love.
6. Walmart
Walmart is having some big online sales for teens this July. If your teen is home spending time by the pool, you might want to have them check out some of these sales. Walmart has great prices for towels, pool floats, and outdoor furniture. Walmart also has markdowns on their everyday items such as groceries, toys, and home goods.
7. REI
If your teen planning on camping, hiking, or doing any outdoor event any time soon, they can find some great deals at REI. REI is offering 50% off select clothing shoes and outdoor gear. Your teen can grab what they need for their trip or summer vacation.
8. SimpliSafe
Does your teen want to make sure their dorm or college apartment is as safe as possible? SimpliSafe is offering 30% off any new security system, as well as a free security camera with any package purchased. This is a purchase that will make you and your teen feel safer.
9. MacKenzie- Childs
Don't forget about the essentials if your teen is going off the college. You can never have too much home decor and kitchenware. Shop MacKenzie-Childs for 50% off products like home decor and kitchenware.
10. Idle Sleep
Is your teen having trouble sleeping at night? With so much stress in the world right now, it is perfect for them to treat themselves to a new mattress. Idle Sleep is offering 30% off sitewide.